Dennis Rudolph
*1979, Berlin
lives and works in Berlin
1998 Language and Culture Institute Beijing,China
2000 Repin Academy, St.Petersburg, Russia
2000- 2004 Universität der Künste, Berlin
2012 - 2016 the portal project California City
[website]
since 2014 founder and head of project space
STATE OF THE ART BERLIN
.
SOLO SHOWS (SELECTED)


-

— 2021
THE 5 MINUTE APOKALYPSE, Oude Kerk, Amsterdam

— 2019
FALLEN ANGELS - Upstream Gallery, Amsterdam
— 2018
MESSENGERS OF THE Ai - Kunststiftung Poolhaus-Blankenese
— 2016
THE DARK SIDE OF THE PORTAL - Lily Robert, Paris

— 2015
THE PORTAL TV - TOMBOLA - Kunstverein Arnsberg (DE)
PERFORMANCE "PUBLIC APOLOGY", PART OF A SPACE IS A SPACE - DAZ, Berlin

— 2014
CALIFORNIA DREAMING - Galerie Jette Rudolph, Berlin
GÉNÈSE DE L'ENFER - Galerie Olivier Robert, Paris
— 2013 PARADISE LOST - Galerie Jette Rudolph, Berlin (D)
— 2012
PARADISE LOST feat. WHITE SUPREMACY, Concord, L.A.
WEGE IN DEN NIHILISMUS (with Mark Titchner) - Upstream Gallery, Amsterdam
— 2010 NEMESIS, DAS GROSSE GLÜCK + DIE FREUDEN DER FRANZÖSISCHEN REVOLUTION - Upstream Gallery, Amsterdam
— 2008
THE HOLY WAR, CHAPTER I, THE SACRIFICE OF YOUTH - Perry Rubenstein Gallery, NY
— 2004
DENNIS RUDOLPH, ÄSTHETISCHER FUNDAMENTALISMUS - Galerie Jette Rudolph, Berlin




GROUP SHOWS (SELECTED)

— 2021
FLOW, Museum Ratingen, cur. by Wilko Austermann
THE GATE, Hamburg cur. by Ellen Blumenstein
— 2020 SGABELLO COLLECTION: In Search of the Miraculous - Project Space On The Inside, Amsterdam
— 2019 DEPENDING ON POSITIONS with Sam Mattacot and Tristan Schulze; inititiated by Office Impart and STATE OF THE ART BERLIN
— 2018
OUT OF OFFICE - Museum der Arbeit Hamburg

— 2018 SEINERZEIT - 30 Jahre Kunstverein Arnsberg
— 2017
THE MUSEUM HAS ABANDONDED US - State of the Art, Berlin, curated by Bob Bicknell-Knight_isthisit?
STATE OF THE ART - Lily Robert, Paris
— 2016
JUMP!, CAC Brétigny

— 2015
A SPACE IS SPACE IS A SPACE - DAZ, Berlin TRANSFORMER – Upstream Gallery, Amsterdam
— 2014 MOSCOW INTERNATIONAL BIENNALE FOR YOUNG ART, Moscow
— 2013
PAINTING FOREVER! - KW Institute for Contemporary Art, Berlin
— 2011
WAKING THE DEAD - Autocenter, Berlin
— 2009
BLACK HOLE - Kunsthalle Andratx, Mallorca cur. by Friederike Nymphius

— 2008
DER AUTORITÄT - Kunstverein, Arnsberg
— 2007
BERLIN NOIR - curated by Felix Ensslin, Perry Rubenstein Gallery, NY
MÄNNERFANTASIEN - curated by Ellen Blumenstein, Chung King Project, Los Angeles
SPEAKERS - Aeroplastics, Brüssel
DAS PORTAL


Der Künstler Dennis Rudolph hat ein virtuelles Tor zwischen Europas größtem Stadtentwicklungsprojekt und dem Ende der westlichen Welt platziert: Mit dieser App kannst du dich zu den Klängen "Einzug der Götter in Walhalla" von Richard Wagner von der U- und S-Bahn Station Elbbrücken in der Hamburger HafenCity direkt nach California City teleportieren! So leicht war Reisen noch nie: Öffne DAS PORTAL und entfliehe dem elenden norddeutschen Wetter in die kalifornische Sonne. Die Augmented Reality Installation schickt dich mithilfe der Kamera in deinem Smartphone durch Raum und Zeit und versetzt dich auf eine Aussichtsplattform hoch über der gescheiterten amerikanische Partnerstadt knapp 9000 westlich, mitten in die Mojave Wüste. Engel bewachen den Übergang, unter dir breitet sich im Wüstensand das glatte Gegenteil des deutschen Vorzeigeprojektes aus. Ein Immobilienentwickler hatte CalCity in den späten 1950er Jahren 300 Quadratkilometer Land erworben, um mit einem Schneeballsystem eine Metropole aus dem Sand zu stampfen. immerhin wird das unvollendete Straßennetz häufig für Off-Road Rennen im Mad Max Stil und alternative Kulturfestivals genutzt, und anders als im engen Stadtstadt gibt es hier unendlich viel Platz... Tritt ein und entscheide selbst, ob Scheitern auch eine Chance sein kann! DAS PORTAL wurde für das Ausstellungsprojekt "The Gate" in der Hamburger HafenCity entwickelt. Der Kunst- und Audioparcours startet am 3. Juni 2021 und wurde von Ellen Blumenstein für Imagine the City kuratiert. Der Eintritt ist frei. Ausstellungsdauer: 4. Juni – 30. September 2021. Die Audiothek von "The Gate" steht ab sofort ebenfalls kostenlos im App-Store zum Download bereit. Weitere Informationen findest du hier: https://imaginethecity.de/de/event/th...




The 5 Minute Apocalypse

March 3 - September 20 2021 at Oude Kerk, Amsterdam

Due to the closure of our doors because of COVID-19 and the restoration of the tower, we realised that the exterior of the church is the only place where people can still see something new and something old. We therefore asked Berlin-based artist Dennis Rudolph to create a new work for the outside of the church tower – The 5 Minute Apocalypse – as a comforting image that melds our online and offline worlds for a few minutes. The painting on the tower comes to life via your phone or tablet.

How does it work?

Scan the painting on the tower

View the augmented reality artwork The 5 Minute Apocalypse by Dennis Rudolph.



The 5 minute Apocalypse
Inspired by the fact that the church tower is publicly owned although part of a religious building, Rudolph makes a connection in The 5 Minute Apocalypse with the Christian background of the European flag. The story of John's revelations from the New Testament served as the starting point for the design; a circle of stars. Both are about the meeting of religion and politics. A vision mirrors for Rudolph the fact of virtual reality, only you can see it, it is not 'real', but the image appears in reality. Virtual reality avant la lettre.

In his work, Rudolph brings together tradition and innovation by mixing a classic genre such as painting with new media such as virtual and so-called 'augmented' reality. The images are not literal additions to reality, but enter into a relationship.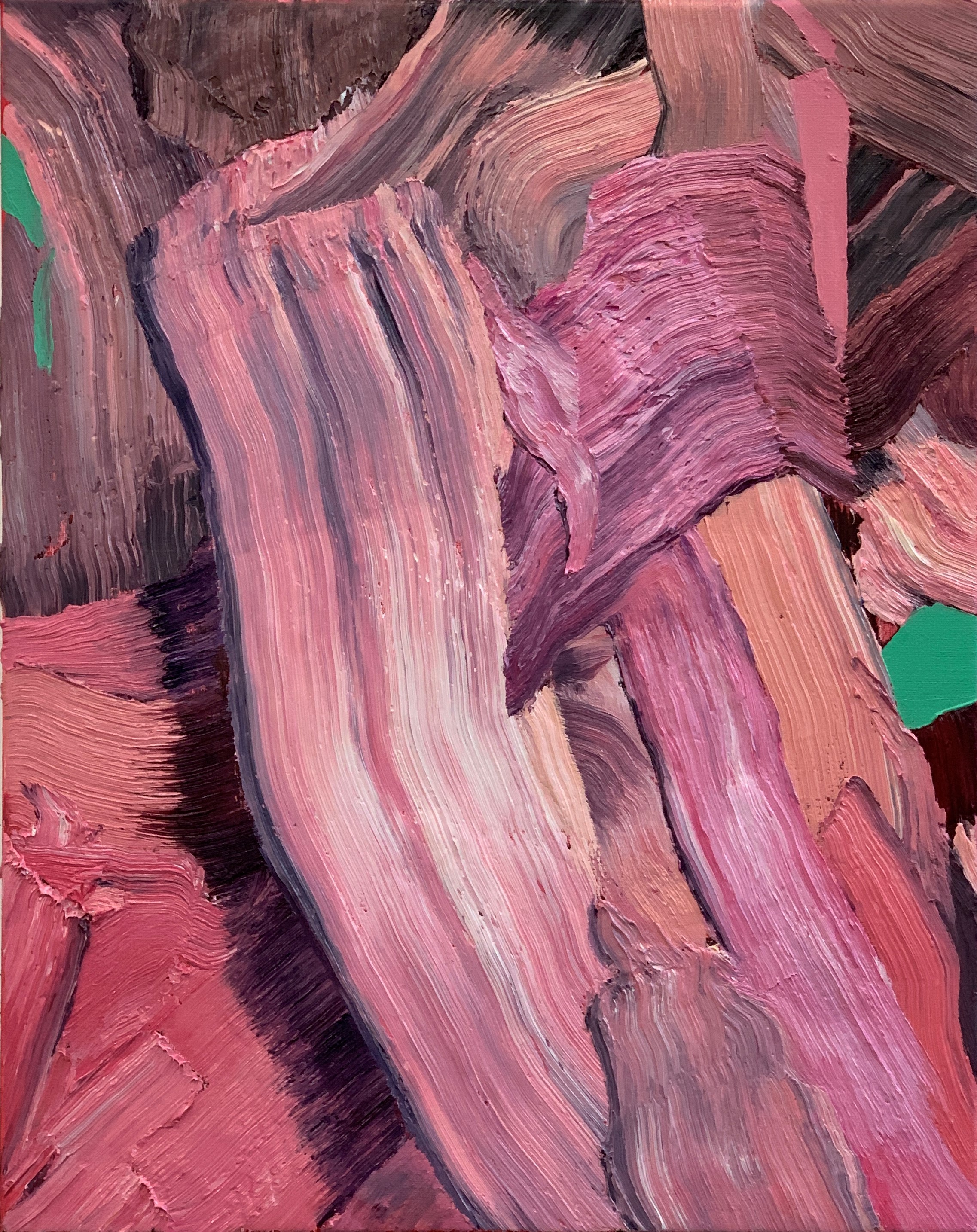 Download the app and scan the above painting to view the exhibition at home.

ARTIFICAL_GODS_Eurydike.
In earlier days, the world was one big fat coherent thing that made sense. Then modernity came and blew it all to pieces. Now Dennis Rudolph comes along and puts it back together again. The abstract painting, robbed of its object by Modernism a hundred years ago, is no longer abstract, but turns out to be part of a larger whole that we only see when we use our phones. The oil painting no longer sits on the wall in sad isolation, but blends into a vast virtual landscape that includes every painting ever made. In turn, virtual reality is no longer a free-floating fantasy world, but connects to our physical realm as Dennis Rudolph anchors it on the million-ton pillars of five millenia of mythology. And our smartphones are no longer just the addiction machines we spend hours and years and lives glued to, but become part of the art.


The automatic action that we've conditioned ourselves to perform – pull phones out and take pictures – turns us into accomplices of the artwork, thus stopping us from performing that exact automatic action (raise phones and take pictures). Dennis Rudolph makes us executors of a mankind that's done with its own history and wants to invent new worlds, but can't help only ever looking back. He exposes us our entanglement, but also makes us step out of it and look at ourselves. We are Orpheus, who could transform the world with a song, and our cultureal history is Eurydice, who unfortunately died, but we brought her back from the land of the Dead, still we're not allowed to turn around and look at her. Dennis Rudolph forces us to act like Orpheus, look back, and watch as the gods that we created drag our undead love back to the underworld – this time, forever.

-Dietrich Brüggemann, 11.2.2021
---
Techne_1, 2020

3D printed digital VR painting cast in bronze.